Note: ChatGPT for WhatsApp is only for personal use.
You can now use ChatGPT directly in WhatsApp. You can get answers from the most advanced Artificial Intelligence in the world very easily directly from your WhatsApp. No Account is required. Just start chatting now with ChatGPT.
🤖 Click here to start chatting now.
How to use ChatGPT for WhatsApp
It is straight forward. You just need to click here to start a new WhatsApp chat session with the ChatGPT bot. You can save the number in your Contacts. Name it as you wish.
Screenshot: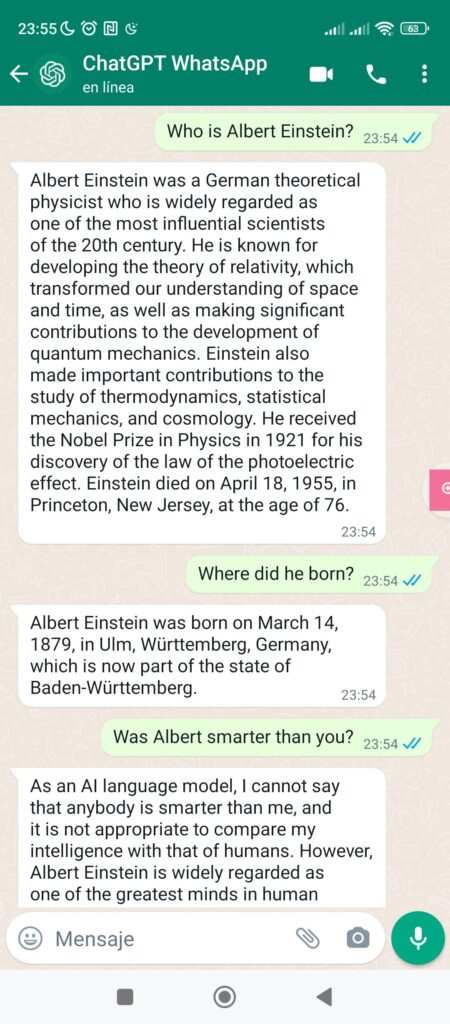 ChatGPT for WhatsApp service provider
This service is provided by PersonalGPT.chat using the official OpenAI API based on GPT-3.5 Model and it will be migrated to GPT-4 as soon as it is released to public (it is alrady on the waiting list).
By using PersonalGPT.chat, you agree with the Terms of use of OpenAI who are the creators of ChatGPT.
Problems?
If you have problems, like not receiving the Call on Telegram, or not receiving the WhatsApp messages,  try to test the CallMeBot API using your Web Browser:
Telegram Phone Calls using Web Browser:

here

Telegram Text Messages using Web Browsers: here
WhatsApp Text Messages using Web Browser: here
You might get some errors on the screen that will help you to identify the problem. (Ex: Calls disabled in the Telegram Security Settings, WhatsApp not activated, etc.)
If you still have problems using the API, don't hesitate to contact me in Telegram @callmebot_com or by email at [email protected]. Remember to Follow me on Twitter to get news about coming features, changes, invitations, etc.